The Voice 2016 season 10 The Blind Auditions
The voice, successful singing competition, is all set to premiere on Monday, Feb 28th. The Voice 2016 will be the 10th season of the singing competition. It started in 2011 and since then has given some excellent talent to singing industry. Here you may watch 'The Voice 2016' Season 10 The Blind Auditions and also all other episodes online.
`The Voice' has been liked by audiences from beginning. All its seasons were entertaining and so is hoped for season 10 too. The show will premiere on NBC at 8p.m. ET in a two-hour show on 28th February 2016. A second two-hour offering will be telecast on 1 March, Tuesday.
The Voice 2016 Season 10 Blind Audition – Mike Schiavo's Video "Talking Body"



The Voice 2016 Season 10 Blind Audition – Alisan Porter's Video "Blue Bayou"



The show will be hosted by Carson Daly once again. The coaches will include Adam Levine,Blake Shelton and Pharrell Williams once again. Gwen Stefani will not be the coach for season 10 rather she will be the advisor for Blake's team. Christina Aguilera will return as coach after a gap of one season.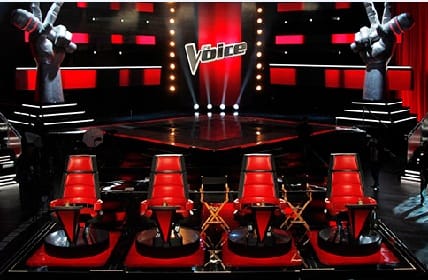 The advisors for season 10 will include P.Diddy for Pharrell's team,Gwen Stefani for team Blake, Tori Kelly for Adam's team and Patti Labelle for team Christina. Miley Cyrus will serve as an advisor for all teams during the knockout sessions.
In season 9 of The Voice, Jordan Smith was crowned The Voice 2015. After the season, 9 people are eagerly waiting for season 10 to start. As far as the format of the show is concerned no changes are to be expected. The Judges will blindly choose their team from the huge number of participants. Competition and sweet naggings among the coaches will again attract audiences along with the performances from contestants.
Former child artist Alisan Porter who is best known for playing the title character in Curly Sue shocked The Voice coaches by her singing as shown in one of the clips of season 10.In the Blind audition, Alison received four chair turn and standing ovation for her performance of `Blue Bayou'. She said singing and not acting is her passion.
We are eagerly waiting for the premiere of The voice 2016 and are sure it will again draw audiences attraction in all possible ways.
More Searching Terms:
The Voice 2016 Contestants/ Auditions/ Coaches