ZenBook Flip UX360CA UK: It is a newly released slim convertible 13.3-inch laptop from Asus. It is to compete with rivals such as Microsoft's Surface Book and the iPad Pro regarding performance, efficiency and battery life. It is best for 360°rotatable display. Here we discuss on Asus ZenBook Flip UX360CA UK Price for online buy or from a store.
The Asus ZenBookUX360CA Review
Price
It is a very affordable ultrabook priced at the price of $799.Powered by Intel Core m3-6y30 CPU and equipped with 128GB SSD and 8GB RAM, it offers much power and a lot more storage at a given price. At such a low price, it gives a feeling of a higher-end laptop. You can also get some offer such as trade-in offer to get some off on the price.
Design
The new Asus UX360CA is a hybrid laptop that looks like a normal laptop. You can't detach its screen, but it can be rotated to give you a feel for the tablet. Its hinges are very strong that can hold the screen at any angle. Its body is made of pressed aluminum with Zircon finish that makes it much lighter and more durable. The ZenBook is designed to be used as a go-anywhere and does anything sort of convertible to make you feel comfortable. The main benefit of this design is that the laptop can even be kept in very cramped spots. You can pop-up on a bed and watch your favorite show or put on a tray table of a train or plane.
The Asus ZenBook has a fan-less chassis. It weighs 2.86lb which is very less for a laptop, but as a tablet, you can feel it bit heavier.
Display
The ASUS ZenBook UX360CA has a 13.3″ 1920 x 1080 IPS LED anti-glare touchscreen display that offers excellent color gamut. The touchscreen is very sensitive and responsive. It features all the functions of a standard tablet that includes multi-touch and swipe gestures.
The only drawback is the LCD display is not full laminated that removes air gaps between the display and a touch layer. And as such and so it looks grey rather than black.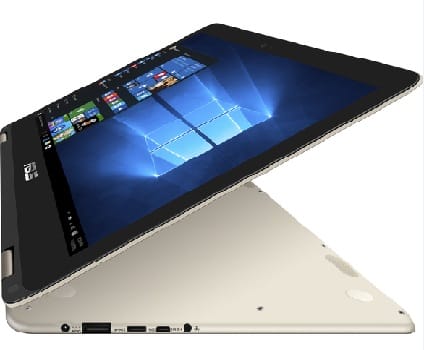 Hardware
As the ZenBook is not meant to be a laptop or a tablet exclusively, but rather a hybrid one, the hardware underneath is also on a similar line.
With an Intel Core m3-6Y30 0.9GHz processor, 8GB SDRAM, and 512GB onboard SSD, the ZenBook is quite a speedier than most tablets but somewhat slower than powerful laptops.
It offers almost all connectivity standards. It comes with USB 3.0 ports, a combined headphone/microphone 3.5mm jack and an SD card slot. It also includes a USB-C Gen 1 Port and a micro HDMI port and. The USB-C is 'Gen 1' compliant and as such its bandwidth is 5Gbps which is the same standard offered by 12-inch MacBook.
The keyboard is standard and similar to the one you find on any competing laptop, there is no keyboard light. The trackpad is large and comfortable. When the laptop is used on a flat surface, the trackpad feels great, but on a non-flat surface, it doesn't get you pleasant experience. The speakers are okay kind of, but you can get remarkably improved the sound if you plug in a pair of headphones.
Software
The ZenBook offers a lighter OS with fast boot up times. It has several ASUS-branded apps installed on it which can be used to protect your eyes from blue light or to make the screen more vivid. It also has ASUS "Flip-Lock" app which allows a user to lock the keyboard and trackpad when you are in a convertible mode.
Performance
The ZenBook is efficient for basic tasks and Windows 10 navigation. It offers great power up to certain extent. It has a processor and graphics capable enough to let you play a game on it without crashing the system. But if you want to play lots of game on it, the ZenBook is not for you as it is not that capable for real-world experience.
Battery Life
The Asus ZenBook Flip UX360CA battery can last for a full day's work for normal browsing and task, it lasts for nine and a half hours if you are to play a video locally-stored video. Ideally, it has a 12 hours battery life.
The ASUS ZenBook UX360CA is a highly portable, convertible and slim laptop that can be considered perfect for the modern professional who also needs the general functionality of a tablet. If you are looking for a cheaper but strong and efficient convertible, the ZenBook is a right choice.
Most Searching Terms:
Buy ZenBook Flip UX360CA UK Online
Best 360°rotatable display Laptops 2018