Hotstar Rs 199 Premium Subscriptions: Offers Same Day TV Broadcasts of US TV Shows
Hotstar, the content streaming service provider has launched monthly subscription service called Hotstar Premium in India priced at Rs 199. Activate premium subscription and access TV Broadcasts of US TV Shows on the same day as in the US. It also provides an exclusive selection of movies and TV shows. For more information or help contact customer care department.
Indian fans can now watch the uncensored US TV shows, including Game of Thrones Season 6 with the US audience as the streaming will be available in minutes after the US telecast.
Hotstar premium shows and movies can be watched through Hotstar app only and not through the mobile browser. The app is available for Android and iOS. You can watch the shows and movies through mobile, tablet, laptop or even desktop.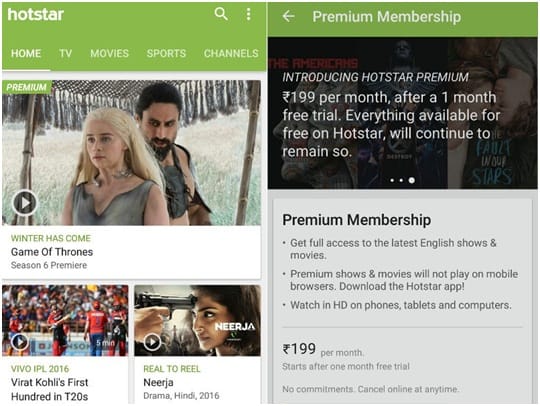 There are about 36 shows listed in its premium TV show catalog that includes Silicon Valley, Veep, and The Newsroom. The movie catalog has about 70 titles and includes popular titles of 2015; users might not find it that appealing.
Fans of Hotstar are taking to official tweeter handle of the company to know about whether the footage will be available uncensored or not. Hotstar has not officially confirmed it but has mentioned it as 'unspoiled'.
Perhaps the company wants to keep away from any controversy.
Currently, this membership is offered only in India, and payment for the service can be made by credit card only.
Most Searching Terms:
American TV Shows Online Watch
US TV Series Watch Online on Hotstar
USA Telecaster Price
Hotstar App for Android/contact phone number