President Pranab Mukherjee to Skip the Art of Living's Controversial Festival
Rashtrapati Bhavan has confirmed that President Pranab Mukherjee will not attend the World Cultural Festival hosted by Art of Living Foundation, founded by spiritual guru Sri Sri Ravi Shankar. Art of Living Foundation has organized World cultural Festival on the Yamuna flood plains from 11 to 13 March. Here you may see The World Cultural Festival inauguration and performance videos.
Prime Minister Narendra Modi is scheduled to inaugurate the festival on 11th March. In the same festival, the president was scheduled as chief minister on 13th march. But now President Pranab Mukherjee will skip the festival after it was entangled in multiple controversies.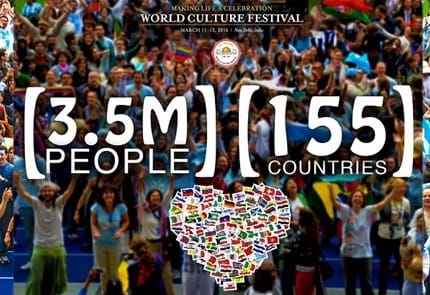 The event is entangled in three main controversies. Firstly, violation of January 2015 National Tribunal order which restricts construction on Yamuna floodplains. Also, Army has been engaged in building pontoon bridges for access to the festival. Lastly, due to event standing crop of small farmers has been moved to clear the area.
The art of Living Foundation says that they have not received any intimation from President regarding this. They further said that they have put on a temporary structure on the given site. A volunteer further added that they have not dug even an inch ground and 7acre stage is eco-friendly and no cement has been used there.
Making of the World Culture Festival India 2016 Video



On another hand picture of soldiers and army truck on the site has gone viral on social media. This has further created the controversy. On this, the officials of Defense Ministry said that the decision is taken for the public interest. An officer added that order has come from government and army has did as directed. It earlier raised questions but was told that it has to be done for the public interest.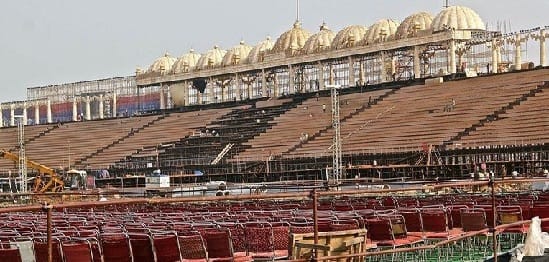 The army was requested to built four bridges but has built only one and may build another one at the most. An officer added that they have taken the entire task as a practice session.
The event is now under National Green Tribunal by Yamuna Jiye Abhiyaan for violating environmental norms. The committee set up by tribunal has found that extensive and severe damage has already happened, simple stoppage of the activity and removal of all that has been done at this juncture may not serve many purposes.
World Culture Festival Theme Song "Sanghachhadwam" – Art Of Living



For the restoration of the western side of floodplains, the committee proposed a penalty of 100-120 crores on Art of living Foundation. Some farmers from the floodplains have moved a petition to court protesting mowing of their crop due to an event. The farmers have the plan to move to tribunal too.
Sri Sri Ravi Shankar responded to this in an interview to a TV channel saying that they should be rewarded as they have used an eco-friendly system for the entire event.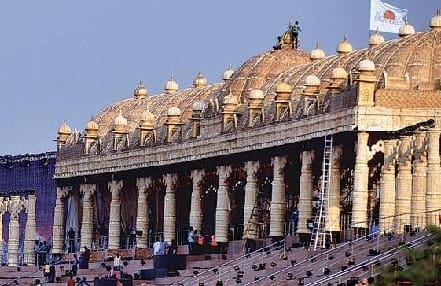 The event marks the 35th anniversary of the foundation and is estimated to draw around 35 lakh people from 155 countries.
More Searching Terms:
World Culture Festival 2016 Performance Videos