Buy Online Reliance Jio to Tap Non-4G Handset Users with JioLinkWiFiHotspot at Rs 2,500
RelianceJio is all geared up to commercially launch 'JioLink', Mifi a fixed 4G hotspot device for home users and enterprise. It will be available at a price of Rs 2,500 bundled with unlimited data access for 90 days. The service was started earlier this December for its employees and had later brought the invite system offering free Jio 4G services.
'JioLink' is a Customer Premise Equipment (CPE) that addresses issues related to indoor coverage and slow speeds. The device comes with a unidirectional outdoor antenna and an indoor Wi-Fi router. The antenna can be installed on the terrace or a roof, whereas the router is to be installed indoor. It comes with an RJ45 port that is connected to the antenna by a Cat5 / Cat 6 cable.The outdoor antenna connects to telco's high-speed data network and provides indoor broadband service with the help of indoor Wi-Fi router.
Reliance Jio customers can now access Jio's high-speed 4G services with this new JioLink. The services will include unlimited 4G mobile data, voice calls, SMS, HD videos for the first 90 days. It will also provide free access to all Jio app that includes 8 premium apps: MyJio, JioPlay, JioChat,JioMags, JioXpressNews, JioOnDemand, JioBeats, JioDrive, JioJoin, JioSecurity and JioMoney. With these apps, users can enjoy live TV, live movies, read e-magazines and online news portal and get cloud for free.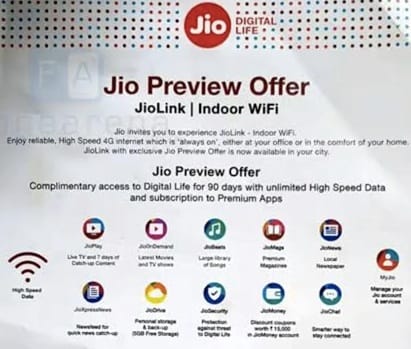 JioLink will also allow users to use 4G services on devices which don't support LTE. Many LTE users had complained about low speed, JioLink will now offer them a solution to this complaint as the device is optimized for all bands. It is claimed that it will offer better signal strength too.
The device will be made available for purchases from Reliance Digital Stores, Rs2500 will be charged as installation charges. This preview offer will be for Lyf-brand smartphones, VoLTE enabled iPhones and Samsung smartphones.
Telecom players Tata Indicom and Tikona are also offering similar outdoor equipment, but there is a difference in the technology they use. Reliance Jio employs 4G LTE, while others rely on 4G Wimax. JioLink is also bundled with a free Wi-Fi router with the transceiver, which is not the case with other providers.
According to MukeshAmbani, Chairman, Reliance Industries, Jio is about inspiring people to join "Digital India Movement". He wants Jio to reach to maximum Indian people. The Company has already revolutionised telecommunication with its smartphones, 4G services and now is launching JioLink to take the services a step ahead.
Most Searching Terms:
Reliance Jio Mifi Device Price
Jio Mifi Product
Reliance Jio Mifi Device Buy Online