Just Sing is a New Karaoke Game from Ubisoft
Ubisoft has announced a karaoke video game named 'Just Sing' for PlayStation 4 and Xbox One. It will be available from September 9. The new game is created by iNiS, which earlier made sing along games Lips and The Black Eyed Peas Experience.
Just sing revolves around karaoke and lip syncing. The game features 40 songs in its initial release, more songs might be added later which can be downloaded. Soundtracks include classic as well as modern hits. Some of them are A-Ha's"Take On Me", Shawn Mendes' "Stitches", The Weeknd's "Can't Feel My Face", Sia's "Chandelier", " Colors of the Time", Justin Bieber's "What do you mean?" and much more.
Just Sing offers the players option of either sing along or just lip sync, you can use your smartphone to as a microphone to sing. You have to download Just Sing companion app on their phone, the app is available for Android and iPhone, an app for Windows phone is not released yet. The app will let you sync your smartphone with your console and you can use your phone as your microphone and camera. The game uses smartphones as a game controller.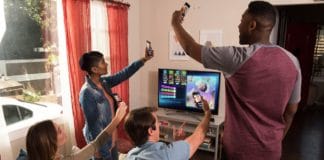 A very interesting feature of the game is that you can record your own music video using your smartphone or Xbox One's Kinect camera. Just Sing offers Party Mode option, where players can create videos with up to four layers. The video can be customized with filters and themes. Players need to connect their smartphones and console to the same Wi-Fi network. You can save your video locally and it will be a memory of the fun time you have with your friends!You can also share the video with your friends and Just Sing game community.
The game also offers a Battle Mode, where one player has to face off against a friend in a singing battle. The player can select from several special effects to be displayed on-screen.
Ubisoft had earlier released Just Dance 2015 and Just Dance 2016 which also allowed smartphone-based motion tracking, but the publisher had not much-laid importance to it as it is doing for Just Sing.
Play Station and Xbox game lovers who love to sing along are going to have lots of fun with Ubisoft's new Just Sing. Be ready to have thrilling experience!
More Searching Terms:
Just Sing PlayStation 4 and Xbox One
Just Sing Ubisoft