Casio's Rugged Android Wear Smartwatch goes on Sale March 25th for $500
A rugged and versatile smartwatch WSD-F10 from Casio is now on sale and with that, there is an end to waiting for a versatile smartwatch for outdoor users. The user may check Casio WSD-F10 price, reviews and first look photos at here. The watch meets military standards MIL-STD0810 and is dustproof, shockproof, waterproof to 50m and vibration proof. It is a pretty hardcore Android smart watch from Casio.
Casio had first unveiled the WSD-F10 at CES 2016 and it was also made clear that the smart watch was designed to withstand the most treacherous adventures and targeted specifically to outdoor users, not the mass of the people.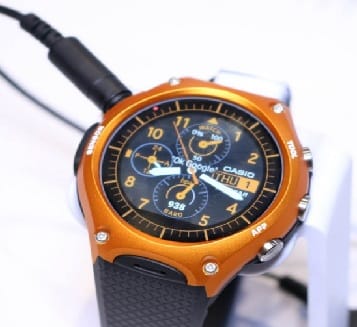 The Android Wear smartwatch features a 1.3-inch 320×320-pixel dual-layer LCD display and can be read even in bright sunlight. It is available in four colour options red, black, green and orange. It weighs 90 gm, which is fairly understood provided the protections it provides.
The watch has apparatuses that provide access to data like altitudes, tide graphs, dawn and nightfall times, compass headings, pneumatic force and atmospheric pressure measurements specifically meant to help adventurers on their trips. Physical buttons are on the side of the watch which can be accessed even while wearing gloves. It is equipped with apps such as ViewRanger GPS, MyRadar Weather and Runkeeper Fitness etc.
You can track basic fitness stats such as steps, distance and specific activities like trekking, cycling and hiking.
WSD-F10 is priced at $500 and will be available for purchase from March 25 at company's website, Google online store, Amazon, Rei and Google's online store.
More Searching Terms:
Release Date of Casio WSD-F10 Buy/ First Looks Photos
Casio WSD-F10 Price and Review