These Pictures Of Prince Harry Reuniting, Playing Holi With Gurkha Officers Will Make You Smile!
You might be amazed to see this photo or picture of Prince Harry playing Holi. Prince Harry wholeheartedly played and enjoyed Holi on the occasion of Fagun Poornima on Tuesday in Nepal during his visit to a school in the foothills village of the Himalaya named Okhari. The celebration started with a school girl smudging powder paint on his face wishing him 'Happy Holi'. The Prince reciprocated by applying the handful of paint on her face with a smile and saying thanks.
Soon Prince's former Army colleague, Ghurkha officer Major Prakash Gurung also joined by throwing red powder on Harry's shoulders. Then all present there that even included his bodyguards, journalists joined the celebration and it turned into happy chaos. Prince Harry too kept no distance, took his gloves off and enjoyed playing with them. Even though he had washed paints from his body when he left, his shirt was still coloured.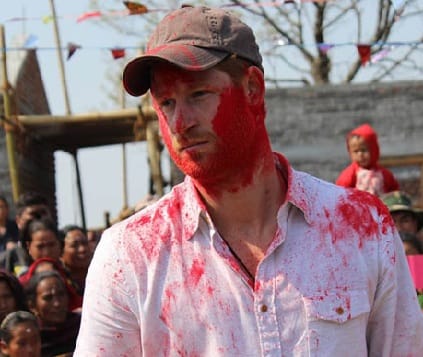 There was a function at the Gauda Secondary School in the village Okhari and the prince attended it with a view to seeing how the British-based Ghurkha Welfare Trust is working towards rebuilding the school which was destroyed during the 2015 earthquake.
Prince Harry was on a five-day visit to Nepal to address some emotive issues such as child marriage, illiteracy, poverty, ill health etc. It was his first official visit to Nepal with a mission to raise awareness that the country still needs help and support after the devastating earthquake of 2015 that had killed 9,000 people. It was the last day of his visit.
Most Searching Terms:
Britain's Prince Harry's Photos in Red during Holi in Nepal