"The Real Housewives of Beverly Hills" Recap : End of Dubai Trip
The Real Housewives of Beverly Hills airs every Tuesday 9 pm on Bravo. The reel characters are still facing some problems. Let's see if they can solve their problem in this episode : "Goodbye, Dubai".
Ladies are picked up from Palm Dubai by two white Rolls-Royces. Lisa Vanderpump tells Kyle and Kathryn that she has not come up from last night.
Real Housewives of Beverly Hills Season 6 Episode 19 Review – Goodbye, Dubai



Ladies are given some retail therapy in the mall. Meanwhile, kyle wishes to be an octopus so that she could have eight credit cards. After the mall, the next stop is Burj Khalifa. Kyle and Eileen both manages to overcome their fear and go all the way on the 152nd floor. Here, Lisa pulls Eileen aside . She apologize for her behavior and said that she never wanted to hurt her. Elieen accepts the apology and hugs Lisa Vanderpump.
Back in Beverly Hills, Yolanda goes for a picnic with Kin and Brandi. Here, Brandi wears a shirt that reads "It's not fun to be sober". She gives Kim a shirt, that says "Medicated". Yolanda says that she is always there for Kim. She further adds that she is not going to discard anyone for slipping in sobriety. She says People dislike sick people and give up very easily.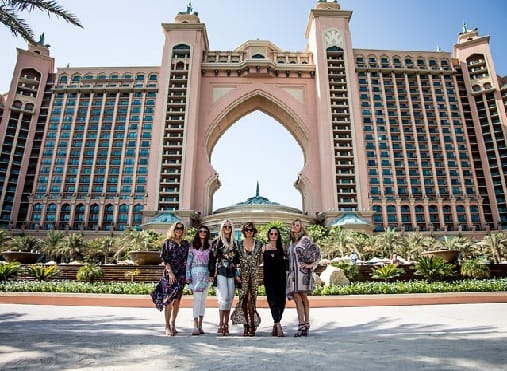 Back in Dubai, Kathryn gets ready for her birthday dinner with the help of Erika's glam squad. They are happy to be roomed together and are sure they will come up from their differences.
Kathryn's birthday takes place on a beautiful Yacht. Lisa Rinna says that all problems with Lisa Vanderpump are due to her conflict with Yolanda. On the other hand, Lisa Vanderpump says that she didn't actually mean her apology to Eileen. Rather, she told Eileen what she wanted to hear from her.
Before the dinner starts, Kathryn's mom call her to wish a happy birthday. Lisa Rinna and Eileen sympathize with her as all of their mothers are dealing with the same problem of memory loss. Lisa Rinna and Eileen gets emotional. Lisa Vanderpump for whom, feelings are hard, wonders why the two are so emotional. Lisa Rinna says at the dining table that Lisa Vanderpump is manipulative and due to her feud with Yolanda her relationship with everyone is complicating. On this, Lisa Vanderpump says that she never spoke anything bad for Yolanda. Kyle confirms the saying of Lisa Rinna.
Lisa Vanderpump said that she has never done anything wrong. She also clarified that she never wanted to bring Kyle in Munchausen's conversation. Lisa also said that she did not deliberately hurt Eileen. Hearing this, Kyle gets angry. She says Lisa never takes responsibility for her action and is not even good at apologies.
The trip of the ladies finally ends with the birthday cake for Kathryn. All of them says that it was a great trip. The next episode will be the finale episode of this season. Finally, Yolanda and Lisa Vanderpump will come face to face to address their problem.
Most Searching Terms: