How to get Refund or Cash Back for Freedom 251 Phone Booking?
The craze of Smartphones is seen among all the age groups and when such luxury comes into your hands in less than Rs 500 it seems like a dream. But this dream has come to reality after the company Ringing Bells, India, launched its cheapest smartphone Freedom 251 at an unbelievable price of Rs 251. But now many customers wants to cancel their phone booking and search for how to get refund or cash back for Freedom 251 phone booking. Now Ringing Bells launched Freedom 9900 TV.
The Freedom 251 was launched on 18th Feb 2016, Thursday sparked intense interest in India and abroad. This 3G smartphone, as the name suggests, priced at 251 is considered as the cheapest smartphones in the entire world.
The features of the phone include the 3.2-megapixel camera, 8 GB storage and the 4-inch screen. It has a slot for two sim cards and runs on Android's Lollipop 5.1. As far as the looks are concerned it looks very much similar to Apple iPhone 4 including the icons that copy the appearance of Apple's home screen. On this matter, the technical head of Ringing bells says that they used Apple's icons as Apple has not copied righted the designs. To which Times says that this is not true as Apple has the patent for everything even the rounded edges of the rectangular screen of the iPad.
According to Gadgets 360 which tested the review model Freedom 251 the unit which they received bore the logo of Adcom that was covered by the sticker. Gadget 360 says that it is possible that the new phone has been prepared from old parts from Adcom mobile.
The expertise who have looked at the phone says that Freedom 251 has nothing new to offer except the price which is too less compared to other smartphones.
The cheapest smartphone Freedom 251 to sell at Rs 251…Really??
Ringing Bells has been in the industry for less than a year and was not known to many before the launch of the cheapest smartphone. The company launched the new Smartphone on 18th February and also created a website to take orders but stopped sales on Thursday 19th February due to the huge response. The site had 600,000 hits per second. Ringing Bells hopes to make all deliveries by June 30. Ringing Bells spokesperson said that their flagship model will bring a revolution in the industry.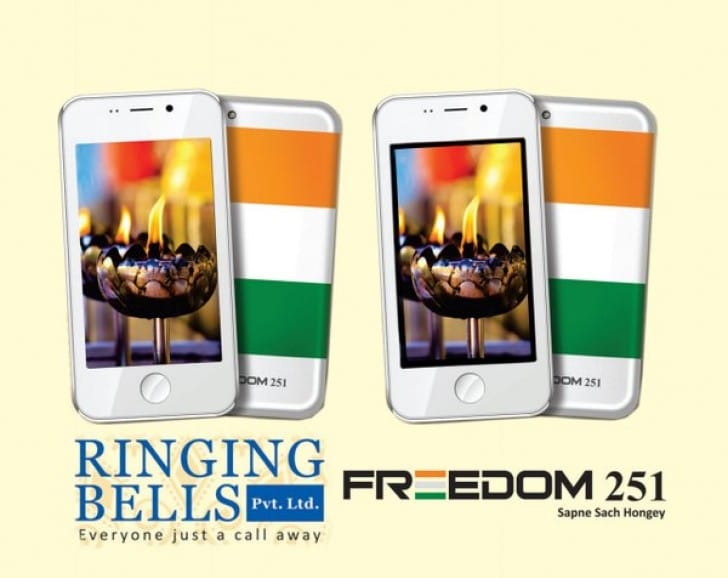 The new smartphone has been in highlight due to its low price, Apple iphone like icons and being the re brand of Adcom Ikon 4 smartphone. But one question which confuses everybody is that how will company achieve the price point as low as Rs 251. According to critics, the components of the phone will cost more than the rate of smartphoneand production, marketing and distribution will need more money.
Tarun Pathak who is an analyst with Counterpart Technology Research says that it looks it is highly subsidized by the company and is not clear how they plan to sustain. To clear this doubts and more, president of Ringing Bells, Ashok Chadha, answered media questions that how the company will manage the low price and still sustain. Mr. Chadha said that no government subsidy is involved and company will benefit from economies of scale.
In India, two crores unit are made in a month. Economies of scale are obtained if we take 30% of it. This means that a less of Rs 500 on Rs 2500. Now by selling this Rs 2500 device at Rs 251 company will suffer a loss of crores. How Ringing Bells will control it is yet to be explained. Another point is that economies of scale coincide only with large business and that's too with few products. For a business to keep competitive advantage only economies of scales is not enough. A business that only has economies of scale advantage will later or sooner be overtaken by its competitors. The competitors will capture enough market share to remove its scale advantage.
Ringing Bells has apparently two plants in Uttrakhand and Noida. They claim that capacity of these plants goes as high as 5 lakhs phone with an investment of Rs 230-250 crores. Ringing Bells says that they will cut down on distributors and will rely on the online medium. Mr. Chadha further adds that with made in India components they will further save 13.8%. Online selling will further save the cost due to the large distribution network.
The company further says that it will allow other company to use their site as a new selling platform. But it is actually wondered how the company will able to manage this when their site already crashed after few hours of order taking. The company is taking four months to deliver its product and meanwhile if few lakh people buy the product online company can earn a huge interest in four months.
The device is not even listed forget about BIS certificate. So one cannot be sure about the safety of using the new smartphone. The Indian Cellular Association (ICA) too worried about this. ICA has reportedly has written to telecom minister Ravi Shankar Prasad that it is not possible to sell a 3G smartphone for less than Rs 2700.
We would really like to see the new cheapest smartphone in the market but for now, it seems a bit difficult at a price of Rs 251.
More Searching Terms:
Freedom 251 refund/ cash back
Freedom 251 Cash on Delivery payment option