Google Fiber TV & Internet Plans Price
Google Fiber TV / Internet Plans and Price: It is the era of information technology. In olden times probably many people are unaware of the internet services. But in recent times from a child to even old people are fond of using the internet services. There are many internet service providers available in the United States (US). Google Fiber is one of the internet service providers and television service provider from them in the US. The Google Fiber internet service was first introduced in the Kansas City of Kansas. It has expanded its internet service other than the Kansas City like in Missouri, Austin, Texas, Provo, and Utah. It has announced in February 2014 that another 34 cities had been chosen for its future expansion.
Google Fiber service range is from 5Mbps (Megabit per second) to 1Gbps (Gigabit per second). 1Gbps equals to 1000 Mbps. You need not wait too long for whatever buffering. It means you will be there whenever you want to do video chatting, playing online video games, uploading family pictures or videos and much more. It also provides television channels by charging monthly charges and offers 1Gbps speeds as you can download a full movie in about a minute. It is said that Google Fiber offers you internet connection speed which is 100 times faster than today's broadband.
A demand for Google Fiber Internet Service is increasing in more and more cities. That's why Google Fiber is building its network as per demands. If you don't live in one of the cities in which Google Fiber provides internet services it will be your dream that you wish you had.
Which Internet Service Plans offer by the Google Fiber?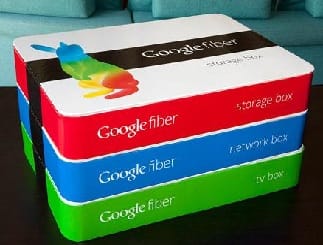 Usually, Google Fiber offers you three plan options. They are explained as following.
The first option is that it offers a free internet service which is totally free of cost. This would be free for at least seven years in participating areas.
The second plan provides you the Gigabit internet plan. It costs $70 per month. A speed is up to 1Gbps for uploading or downloading.
The third and last plan is Gigabit + TV. For this plan, you have to pay $120 per month. In this plan, you will receive 200 channels and 1 TB of storage. It requires a contract of two years.
Official Website of Google Fiber: https://fiber.google.com/cities/
Call: (866) 777-7550
If you want to get more information about the Google Fiber internet services you can log on to the website of Google Fiber and may get other information. If you have any query you can ask by chatting online through its website. They are always available for you as 24 hours a day, 7 days in a week.
Most Searching Terms:
How Much will Google Fiber Cost in Austin/ Atlanta