All about Jennifer Aniston's 'Intense' Workout Routine
Jennifer Aniston has managed to be fit in her 40's. Jennifer at an age of 47 is so fit that people half of her age even envy her. She recently revealed how she manages to be so fit at this age too by 'Intense' workout routine.
Aniston gets up as soon as 4:30 a.m. in the morning when she is working. When she is not working she wakes up at 9 a.m. As soon as she wakes up she intakes one glass of warm water with lemon in it. Now after washing her face with soap and applying moisturizer she heads for meditation.
After meditation, Jennifer takes her breakfast. Her breakfast includes green smoothie with added protein powder and fruits. If she doesn't have this shake then she opts for toast and poached eggs with avocado or millet cereal with almond milk and bananas.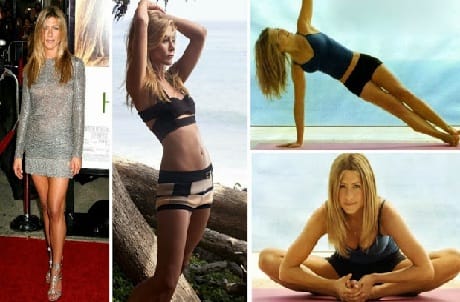 After breakfast is workout session. She does spin yoga session with her lady trainer. They spin for around half an hour and then do intense yoga for 40 minutes.
After yoga, she heads for the gym. Here she either does strength training or treadmill, the bike or the elliptical. Jennifer says treadmill is hard so if she watches TV she cannot run as she has to focus on what is being said so she opts for music. She says" The whole time your body goes, I know what's happening …It's good to pump it up and then take it down".
The diet plan throughout the year remains almost same. She follows a strict diet plan. She eats more organic fruits and vegetables, intake less sugar and drinks plenty of water and gets good sleep too.
More Searching Terms:
Jennifer Aniston's Workout Routine