Mukesh Ambani, Anil Ambani Bonhomie as President Honours Their Father
Mukesh Ambani and Anil Ambani displayed bonhomie when they accompanied their mother Kokilaben to receive the prestigious Padma Vibhushan, awarded posthumously to their father Dhirubhai Ambani at the Darbar Hall of Rashtrapati Bhavan on Monday.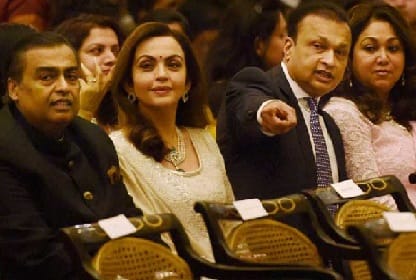 Both brothers Mukesh Ambani and Anil Ambani were with their spouses Nita and Tina sat together with Kokilaben and spoke to each other amicably during the hour-long civil investiture ceremony. Mukesh Ambani was seen sitting in his designated position with his wife Nita and sister-in-law Nita, whereas Anil Ambani was found escorting some ministers and other dignitaries and introducing them to his mother.
All four clapped together when Union Home Secretary Rajiv Mehrishi announced the name of their father, founder of Reliance Industries to receive the 'Padma Vibhushan' award. It was received by Kokilaben, wife of Dhirubhai. At the ceremony, it seemed that the bitterness was pushed back and there were no rivalries.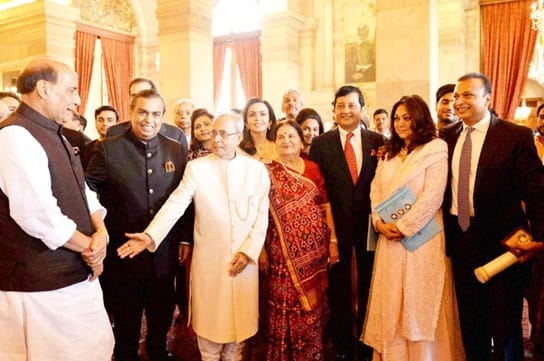 Mukesh Ambani is the chairman of Reliance Industries Ltd and Anil Ambani is the chairman of Reliance ADA group, both the group of industries was part of Reliance Empire established by their father. After the demise of Dhirubhai Ambani, their father, there were some disputes between the brothers and the Reliance was split into two in the year 2005.
'Padma Vibhushan' is the second highest civilian award in India. It is presented to distinguished personalities from the field of public service, sports and entertainment every year. The award is presented by the President of India at Rashtrapati Bhavan.
More Searching Terms:
Winners List of Padma Vibhushan Award 2016