Kerala Temple Fire: Police Detain Five People; Death Toll Mounts to 112
At least 112 people killed and more than 400 got injured in pyrotechnics tragedy that took place a Puttingal temple of Paravur, Kollam district in Kerala on Sunday at 3:30am. The death toll is likely to increase. A half kilometre of the year surrounding the temple was under the blaze. Here you can see Kerala fire accident videos.
There was an annual festival called Meena-Bharani festival at the temple and the fireworks display was there to mark the conclusion of the festival that included an estimated 50 tonnes of gunpowder and explosives.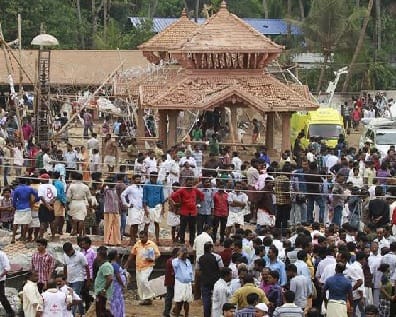 According to the eyewitness, the incident took place when a cracker meant to explode in the air fell to the ground sending sparks in all directions. The sparks also reached the storehouse causing the ignition to the fireworks stored over there. It followed an explosion that made a building to crash and caused damage to some other structures in the surrounding. The power supply was also disrupted due to the explosion.
The crowd gathered there to celebrate the festival and watch the firework were left clueless. There were chaos and anarchy.
Local people rushed to the place immediately and started the rescue operation. Immediately the State government and central governments rescue teams reached there and tried to get the dead and wounded out. A team of doctors also were deployed there. Seriously injured were rushed to the hospital.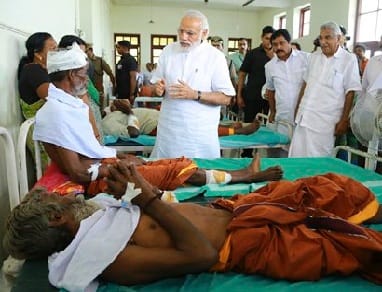 PM Narendra Modi reached to Kollam and visited the temple site. He visited injured who were admitted to the hospital at the district hospital in Kollam and at the Govt Medical College in Thiruvananthapuram. He said, "We stand with the people of Kerala and will extend all possible help". He has also directed Union health minister J P Nadda to coordinate rescue operations who had already reached Kollam. Other senior ministers who were on the election campaign in Kerala, cut short their campaign and rushed to Kollam.
Kerala state government declared an assistance of Rs 10 lakh to the relative of those who died in the accident. Seriously injured will receive Rs 2 lakh each and those who have suffered minor injuries will receive Rs 50,000 each. The Union government has also announced compensation of Rs 2 lakh for each deceased person.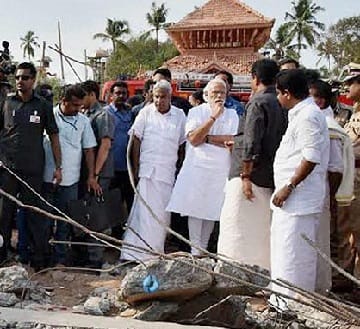 The district collector had denied permission for the fireworks display for security reasons. The temple authorities ignored the denial and had gone ahead with it. A judicial inquiry has been ordered by the State government.
Police have detained five people so far and filed cases against Varkala Krishnankutty and Kazhakoottam Surendran, the contractors entrusted with the fireworks. Surendran has been critically injured in the fire.
Krishnankutty is absconding.
Most Searching Terms:
Kerala Fire Accident Video
Black Sunday Kerala Temples