Doping Shadows Maria Sharapova's Rags-to-Riches Story
Russian Tennis player Maria Sharapova has a failed drug test for Meldonium at the Australian on Monday and has been banned from Tennis. Maria Sharapova is an internationally acclaimed Tennis player. She has revealed that she had been using mildronate and she was not aware of the fact that it had a different name different name as Meldonium and it is on the World Anti-Doping Agency's banned list.
She has said that she was taking it for 10 years as her doctor had prescribed it in 2006 for an irregular heartbeat and a history of diabetes in her family. Meldonium was added to the list of banned substances in a month of January this year.
Maria Sharapova's is an incredible story of a Sportswoman who is raised from rags-to-riches. She was born in Belarus, Russia. She escaped the Chernobyl disaster. She started playing Tennis at the age of 4. Her parents moved to the US when she was seven and was encouraged to play Tennis at Florida Academy. Her talent was recognized by IMG group and was funded the $35,000 fees required to pay for the Bollettieri school.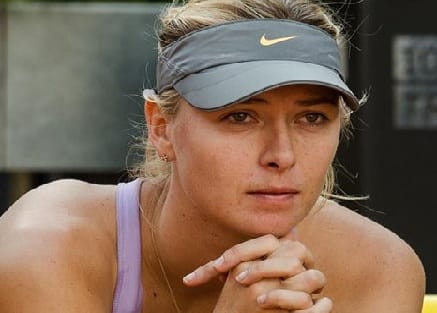 She learnt to play Tennis excellently and became the third youngest to conquer the All England Club when she won the Wimbledon Title in 2004 at the age of 17 only. Then onwards she never looked back, she earned name and fame and riches beyond her imagination. She has already won five Grand Slam titles.
She reached at the no.1 position in the year 2006. But suffered from shoulder injuries and it took her 10 months time period for recovering leaving her behind in ranking. In the later period also, she suffered from forearm pain and leg problems. She has survived all the testaments and won all the grand slam titles once. She has won French Open second time in 2014.
Sharapova is very beautiful. She has had many ad campaigns. She is a brand ambassador for Porsche, Cole Haan and has signed a contract with Nike. Nike has ended it with the failure of a drug test.
Maria Sharapova wants to play more Tennis and she has many more dreams to realise yet. Let us hope she survives this testament and have a bright future ahead!
More Searching Terms:
Maria Sharapova Doping
Blood Doping Test
Doping Control Procedures
What is Meldonium
Anti-Doping Test