Midland Mortgage Login Page Access
Midland Mortgage Corporation offers finance for home buying, building, and refinancing. It offers very flexible plans to suit home buyer's need. Here we will discuss on Midland mortgage account login, payment address, and customer service number for any help. In a bid to offer convenience to its customers, Midland provides online services to customers; they can manage their mortgage account online.
You can access and manage your Midland Mortgage account at member portal www.mymidlandmortgage.com. To access the account online, you have to sign in to your account. And in order to have your sign in user id, you have to sign up once at the portal.
By logging in to your account, you can view details of your loan, make a mortgage payment, enroll for automatic mortgage payments, update your profile, assess property damage and get delinquency assistance. You can download required forms at the portal. It also offers help for homeowners facing hardships and assists with disaster recovery.
How to Sign Up Mymidlandmortgage account?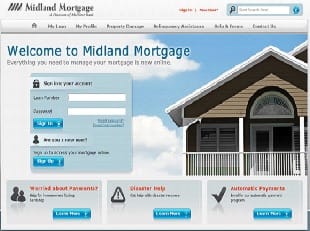 Signing up is a simple and quick process; you provide required information. Follow the instruction given below to sign up for an account.
Go to www.mymidlandmortgage.com
Click on the 'Sign Up' button displayed on the home page.
A new page will be displayed. Enter your loan number, social security number and zip code of the area where your property resides in the given fields. Then click on the 'Continue' button.
Do as directed, provide contact information, create your username and password, set security questions and complete the process.
How to access Mymidlandmortgage Sign In?
Once you have signed up for a mymidland account, you can login to it anytime.
Go to www.mymidlandmortgage.com
Enter your loan number and password in the fields given. Then click on 'Sign In' button.
Mortgage Assistance Program
If you have missed some mortgage payments, you can apply for Mortgage Assistance program. You have to submit necessary documents. If you qualify for it, the program helps you through loan modifications and repayment plan; your payment might be lowered. It also has a plan designed to deal with unemployment. You can either apply online; send a fax or a mail. If you need any help regarding this program, you can make a call at 1-800-552-3000.
Disaster Help
If any disaster occurs and your property is damaged, the company offers recovery assistance program. You contact Midland and inform about it and you also file a claim. You can also call 1-800-552-3000 to get help.
Most Searching Terms:
Midland Mortgage Customer Service