Motorola Introduces Android Marshmallow Update in India
Motorola recently announced a new software update for Moto G(2nd Gen.) that brings Android 6.0 Marshmallow to the users phone coupled with other improvements. The new software improves mobile experience with the help of battery smart features and new app permissions.
With Android Marshmallow, users have more control over what they share with their app. In Android Marshmallow, the apps designed ask the permission at the time when the feature is being used instead of once when the app is being installed. One can modify the permission given to the app anytime. Android Marshmallow lets the user decide what is the right action for the app when a web link is tapped.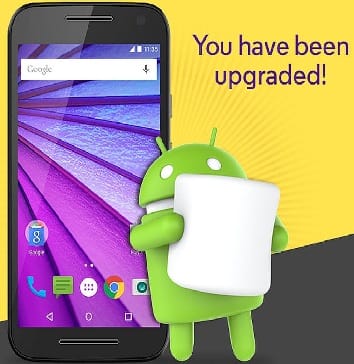 The software helps SD card to increase device internal memory and not just being used for media files.Users can easily configure interruptions by tapping Do Not Disturb button in the quick setting panel. With new Do Not Disturb feature user is allowed multiple automatic rules by time or event.
The user can decide which app is to be treated as priority app. Android Marshmallow also gives more clean and initiative way to control ringtone, alarm and media.
In Android Marshmallow Direct share is another new feature. This allows sharing something directly to contact or conversation within an app. It is important to note that users using Android Motorola will not be able to use Motorola Migrate any more.
Motorola recommends installing the new app when the battery is at least 50 percent or more and when Wi-Fi is on. If you receive notification for software update select Yes, I'm in and after the download is finished press install now.
Your phone will restart after installing and your phone is updated to Android 6.0 In case you do not receive notification select settings icon in app menu in that select `About phone' select `system update' Now follow the same steps mention above i.e select Yes I'm in and after the download press Install now phone will restart and updated to Android 6.0
Remember user cannot downgrade to previous software once he installs this update. With this software update, Motorola has introduced Android Marshmallow for users in India.
More Searching Terms:
Android 6.0 Marshmallow Update Motorola