MTV Movie Awards 2016: Ariana Grande Performs 'Dangerous Woman'
Ariana Grande performed a sultry rendition of her latest single 'Dangerous Woman' from her forthcoming album with the same name at MTV Movie Awards 2016, you may watch her performance video here.
Inspired by Merilyn Monroe (a la Monroe in Gentlemen Prefer Blondes), Ariana Grande was dressed in a pink ruffled ball gown and white fur shawl with blinged out diamond necklace. She looked stunning wearing a ponytail.
Ariana Grande – Dangerous Woman Video [MTV Movie Awards 2016]



Ariana Grande was accompanied by broadway composer Jason Barot on the piano scrawled track name on it. She performed simply superb and hit every note effortlessly as she belted the lyrics of the song. She didn't resort to any fancy pyrotechnics and dancers. Gigi Hadid and Kendall Jenner introduced her for the performance.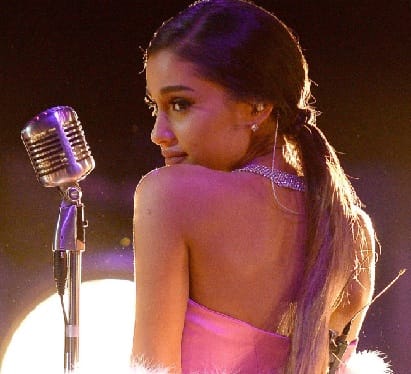 Ariana Grande is 22. She had performed for MTV awards in 2013. She looks different now. This is the first time this year that she performed on the stage.
The 2016 MTV Movie Awards was held on April 9 at Burbank, California.
Ariana Grande is an American singer and actress who started her career in the Broadway musical 13. The album Dangerous Woman is slated to be released on May 20. This is her third album. Her first two albums were "The Way" and "My Everything".
Most Searching Terms:
Watch Ariana Grande's Stunning 'Dangerous Woman'