Netflix Admits it Throttles Video Speeds for Some Customers
There were accusations that AT & T and Verizon carriers are throttling the quality of Netflix videos being watched on their network. But the reality is something different! It's not these carrier providers are playing with the video qualities but Netflix itself was throttling the speed.
Netflix has admitted that it was to protect its subscribers from exceeding the data cap and they can continue watching the Netflix videos. Netflix has restricted the speed of video streaming to 600 Kbps for its AT & T and Verizon customers.
It is following this practice for last five years with good intention that its subscribers who have limited data plan don't blow up their monthly data cap watching videos. Data usage over the data cap causes large penalty charges. Netflix didn't want its viewers to cut short their watching video streams.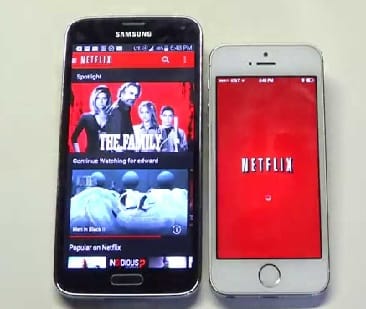 In order to watch videos with best possible quality, there has to be a good balance between video quality and data consumption. According to Netflix, 2 hours high definition video consumes about 6 GB data that amounts to total data allowed for a monthly Verizon plan for $80.
The controversy aroused last week when T-mobile CEO accused that Verizon and AT & T were throttling video streaming speeds, which both the companies denied. AT & T don't justify Netflix reasons saying it has millions of subscribers with unlimited data plan and this speed cap provides degraded video quality. Verizon is yet to respond.
Netflix is credited with unfettered data speed and is the biggest data consumer over Wi-Fi as well as wired internet connections. According to networking company information, Netflix streaming services takes about 37% of downstream data traffic during peak hours in North America. Among mobile networks too, they claim about 3.4% data traffic.
More Searching Terms:
For Most Mobile Users Netflix Throttling Video Streams
Netflix Caps Video Streams on Wireless Networks