How to Open e-Insurance Account in Karvy Repository Services
IRDA has issued a license to five insurance repositories and Karvy is one of them. Here we will discuss on how to open My Karvy e-insurance account with www.kinrep.com. Insurance repositories provide access to all your insurance policy details at a single access point. Insurance repository stores your KYC data converts your policies from paper format to electronic format. It also offers security to your policy documents and enhances management of policies and services.
e-Insurance Account with Karvy Insurance Repository
In order to have your details stored at insurance repository, you have to open an e-insurance account with the respective repository. To open an e-account with Karvy Insurance Repository, you have to apply for it. You can apply online or fill out printed application form and submit it to Karvy repository office along with supporting documents. You will have to give a copy of your PAN card or Aadhar card with it. You also need to submit proof of address and proof of birthdate. Your application will be processed in a week and you will get Karvy insurance repository e-account.
It is free to get an e-insurance account. You can have life insurance, health insurance and pension policies stored at insurance repository. There is a provision to appoint an authorized representative who can operate your account in case of demise of the policy holder or due to disability. An authorized representative is not entitled to get any policy benefits unless he is the nominee.
You will get username and password for your Karvy repository insurance account. You can login to your account with username and password and do various things such as make a claim, make a change in address, change your nominee, go through policy details and benefits and much more.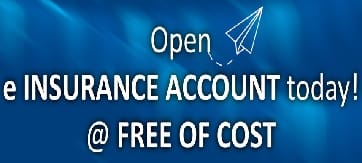 Benefits of Karvy Insurance Repository
Karvy Insurance repository offers a common platform and provides nine important services.
You can view your consolidated insurance portfolio.
You will get renewal alerts and it will help you not to miss out on deadlines.
You can download and print a premium receipt at just click of a button.
It offers security to your policy documents and you can convert your existing policies toe form. You just have to make a request for it by filling out a request form and submitting it with supporting documents.
You can register your complaint online. The insurance repository grievance cell is set up to address the issues.
You can download personalized service request at the repository and track it too.
You can view as well as change your profile if needed.
You can manage authorized representative and nominee at the repository; you can change it if necessity demands.
Get an e-insurance account with Karvy, manage your policy and rest assured for data security.
Most Searching Terms:
Open e-Insurance Account in Karvy Repository