Cheese Good or Bad for High Cholesterol?
Cheese is undeniably a delicious delicacy. Cheese has many important nutrients like calcium, protein, vitamin A and protein. But it is also loaded with many other things which are in particular not good for your heart that includes sodium, cholesterol, calories and saturated fat.
Well, if you have high cholesterol you don't need to cut off cheese completely. You can opt, low-fat or fat-free cheese available in the market.
What is Cholesterol and What Quantity is Required by the Body?
Cholesterol is required in the body to make hormones, to build cell walls, vitamin D and metabolize fat. Liver in the body synthesizes 1000 mg daily which is enough for the body. Cholesterol is also a type of fat found in dairy products and animals. Consuming more than required quantity of cholesterol can eventually block arteries and lead to the various heart problem.
Let's See Which Variety of Cheese has What Quantity of Cholesterol
Part Skim Mozzarella Cheese -15 mg cholesterol per 1 oz,
Low-fat (1%) Cottage Cheese -9 mg cholesterol per cup
Low-fat Cheddar or Colby Cheese -6 mg cholesterol per 1 oz
Fat-Free Cream Cheese -1 mg cholesterol per tbsp
Whole Milk Ricotta Cheese -125 mg cholesterol in 1 cup
Commercially Prepared Cheesecake -44 mg cholesterol per slice
Cheeses with 25 to 27 mg cholesterol per ounce: Feta, Munster, American Processed Cheese.
What More does Cheese Contains?
Saturated Fat
Saturated fat causes more harm to person cholesterol as compared to dietary cholesterol. One ounce serving of cheddar cheese gives 6 grams of saturated fat. Brie cheese or American cheese of the same quantity gives 5 grams of saturated fat. Taking too much cheese will increase saturated fat in the body which in turn increases cholesterol of the body. High level of cholesterol, in turn, increases the chances of heart problem like heart attack and stroke.
Sodium
Sodium content in the cheese is high and high amount of salt is not good for heart. According to American Heart Association, high salt increases blood pressure and person becomes more susceptible to diseases like heart attack and stroke. High level of sodium also raises the risk of kidney diseases and osteoporosis. One ounce of mozzarella cheese contains 178 mg of sodium and the same quantity of cheddar cheese has 176 mg of sodium. The daily limit for sodium intake is 1500 mg.
How can You Cut Down the Quantity of Cheese and Choose Healthy Options?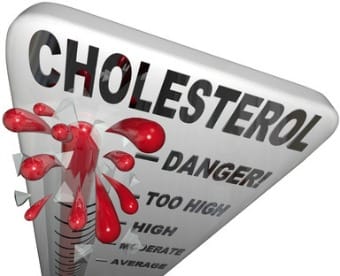 You can replace the extra cheese of your sandwiches, pizza and more with healthy flavorings like spicy mustards, salsa and more and use healthy fillings like sprouts, mushrooms, peppers, tomatoes and other such things. Instead of relying on cheese, think of plant-based proteins, such as tofu, tempeh, beans, hummus and nut butters. Full-fat hard cheeses can offer a lot of flavor to dishes. You can use smaller portions and add it at the end of cooking. Lots of fat-free cheeses are available you can use it to cut down the cholesterol value.
Cheese is a good source of calcium and protein but one should have control on the amount consumed. Selecting lower fat versions of cheeses and by limiting portions you can eat it too. If you already have high cholesterol the quantity and type of cheese matter very much.
Most Searching Terms:
Is Cheese Good or Bad for Your Diet
Cholesterol Content in Cheese
Cheese Fat Content Comparison Chart
Cheese Good or Bad for High Cholesterol