Text and Type on Virtual Keyboard with 'Smart' Glass
Scientists from the Korea Advanced Institute of Science and Technology (KAIST) have developed a smart glass that lets users text a message or type in keywords for internet surfing. It offers a virtual keyboard for typing text as well as a virtual piano keyboard.
KAIST researchers have upgraded their earlier versions of K-glass. The new version known as K-Glass 3 is reinforced with augmented reality. It offers very intuitive and convenient user interface. It has a head-mounted display (HMD) that employs a stereo vision and deep learning algorithm.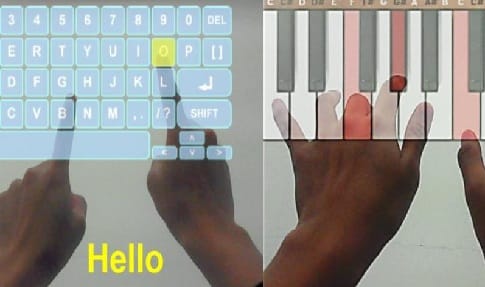 K-Glass 3 is equipped with a stereo camera, a Wi-Fi module and dual microphones. The smart glass is designed in such a way that it offers higher recognition accuracy and creates a real view.
Previous versions of K-Glass were poor in gaze recognition and lacking the friendly user interface (UI) and experience (UX). The new smart glass overcomes the drawbacks. The K-Glass 3 has a low power natural UI and UX processor and provides very convenient typing and the screen pointing on HMDs with hands.
The low powered processor consumes only 126.1 milliwatts power and offers a high-efficiency rate. The new multi-core processor is equipped with seven deep learning cores in order to create real-time screen recognition. The stereo vision camera that is located in front of the glass works in a similar way to three dimensions (3D) sensing in a human eye.
K-Glass 3 with its innovative technology and features will make it widely used smart glass.
More Searching Terms:
Virtual Piano Keyboard Online