Twinkle Khanna Trolled by Sri Sri Ravi Shankar's Followers
Actress turned writer, Twinkle Khanna, faced lots of criticism for her funny barb at Sri Sri Ravi Shankar's comment on twitter.
Spiritual guru and founder of Art of Living, Sri Sri Ravi Shankar has been in news many times. Recently, his comment about Pakistani young girl Malala Yousafzai , who received Nobel Prize for peace drew lots of criticism. He commented "Nowadays there is no value to the Nobel prize. When you award it to a 16-year-old girl who hasn't done anything, what value is left? It has become a political joke.
"Twinkle Khanna, commented on this saying "Sri Sri got his noble foot and half his beard stuck in his mouth in a yogic pose that Baba Ramdev perfected a while ago." This was said by her as a joke but was enough to hurt the feelings of people associated with Art of Living. They started trolling her on twitter and went on saying that followers of Art of Living around the world will boycott watching movies of her husband, Akshay Kumar.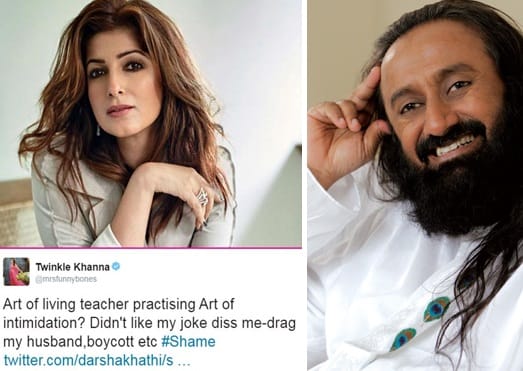 Twinkle Khanna who is known for her independent views thought she might have crossed the line and so deleted the said tweet quickly. She even apologized with another tweet that said "Didn't mean to hurt anyone's feelings was meant to be a joke and am old enough to accept an error of judgement on my part (sic)." However some followers continue trolling and commenting and even said to start a protest.
Twinkle tweeted "Art of Living teachers practicing Art of intimidation? Didn't like my joke diss me-drag my husband, boycott etc#shame."
Many twitterati came forward in support of Twinkle Khanna. Some wrote "Really @SriSri why this despicable acts? What's gone wrong with you? Destroying your own reputation." While, one said" Disgusting mob behavior by the art of living followers making @mrsfunnybones delete her joke on a man who deserves more such jokes." There were many such tweets in support of Twinkle Khanna.
This incident, once again prove that we are living in an era where we are not allowed to make jokes on anything.
Most Searching Terms:
Twinkle Khanna, Faced Lots of Criticism for Her Funny Barb