Coachella 2016 Festival Review: From Worst to Best
The first weekend of the Coachella music and arts festival 2016 in Indio, California saw an enormous gathering of musicians and fans. It was full of surprise performances and rare spectacles.
Ice Cube graced the stage draped in a customized white Dickies suit; he rocked the most powerful records from his catalog on Saturday night. N.W.A.'s MC Ren and DJ Yella joined Cube onstage for "Straight Outta Compton," "Dopeman," and "Fuck tha Police," all of which highlight his supernaturally colorful writing. It had the feeling of a breezy, informal reunion. The crowd enjoyed every minute of it.
Top 11 Surprise Performances From Coachella 2016 – Video from YouTube



Sia – Breathe Me: Coachella Festival



Most eagerly awaited guest star for many fans of the festival was Kesha, who joined Zedd on Saturday to sing "True Colors." It was the singer's first public appearance in months. Many numbers of fans wore Kesha-related clothing throughout the day. There was a brief appearance but it marked a redemptive moment.
On day two of the festival, the cameo was very shocking when schoolboy-suited axeman Angus Young pranced out during Guns N' Roses' main stage reunion set. He performed AC/DC's "Whole Lotta Rosie" and "Riff Raff" – with GNR's Axl Rose on lead vocals which were impressive.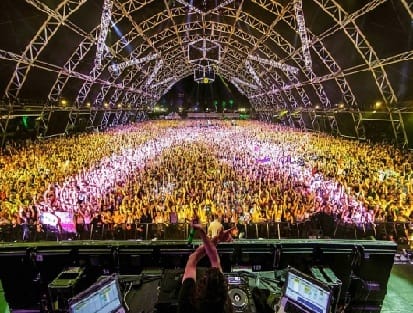 The biggest draws in Indio this year were the EDM superstars. Major Lazer played Sunday to his fans that were cynical, throwing everything at the wall and watching most of it stick to the sweaty, shirtless masses. There was a welcome surprise when Sean Paul was called out for his second guest spot of the weekend. Another double cameo performance came from Kanye West, who bounced around the stage.
The most memorable performance at the festival was by Kamasi Washington, the tenor sax upstart from South Central L.A. He was accompanied by his usual band and his father Rickey, an accomplished musician in his own right. He ran through cuts from his acclaimed The Epic and newer material, weaving in stories about his bandmates' childhood transgressions and the marathon recording sessions e is having recently. It was so magnetic that Kamasi's crowd almost doubled before he was through.
Los Angeles beat scene veteran Nosaj Thing competed with Harris from the Mojave tent and was the runaway winner for best visual production. Nosaj's silhouette was reproduced in a shifting series of geometric patterns.
Iranian DJ Dubfire was also excellent in the Mojave whose late Friday turn was technical, precise, and much fun filled.
Diplo project closed down the festival as the Sunday night headliner who couldn't draw many fans.
If we talk of Coachella 2016 Festival, one of the striking aspects this year was how the festival morphed from one thing to another as the sun disappeared. It included some of the happiest, breeziest sets on the docket from Courtney Barnett and Gary Clark Jr.
Music aside, Coachella is a beautiful festival. You find stunning artwork everywhere. At night, you see the palm trees light up in reds, blues, and greens. Beautifully illuminated balloons fly into the sky.
According to some of the critics, it was quantifiably and objectively the worst headlining set in Coachella history. Perhaps everybody at the festival wouldn't agree. One very positives thing about the festival were the fireworks and the rings of lights on the speaker towers.
Most Searching Terms: