Yoga to be a Part of Final Easter Celebrations of Obama
White House is all set to host the Easter Egg celebrations on 28th march. This will be the final Easter under Obama's administration. Thousands of Americans will join the celebration. Among the various program in the celebration, there will be Yoga sessions by professional yoga instructors. You can watch here Easter Egg celebration 2016 yoga session video.
10 different zones have been created for the event and `Yoga Garden' is one of them. The theme of Easter Egg Roll is `Let's Celebrate' in the honour of President Obama who will be hosting it for the final time. Around 35,000 tickets are sold to people so that they can enjoy the event too.
Yoga Session at White House lawns in Washington on Easter Egg celebrations



The special guest of the festivity will be Tony Award winner and Idina Menzel. Idina will sing the national anthem and will also perform on Rock `n' Egg Roll stage.
Idina Menzel Sings National Anthem At 2016 White House Easter Egg Roll



The event will have everything from music, sports, storytelling, cooking stations to Easter egg rolling.
The event also includes the White House fun run in support of Michelle Obama's initiative called `Let's move'. Under this run, Michelle Obama will join 250 children to support the active and healthy lifestyle for kids. Kids will be taught to plant various sports by The President's Council on fitness sports and nutrition and players and coaches of professional sports team.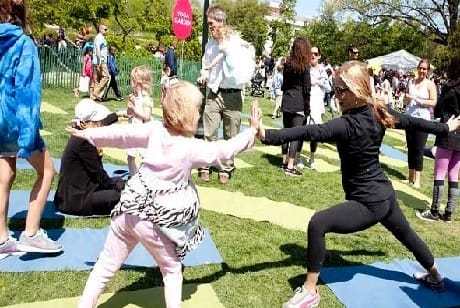 Students from around 19 states and two foreign countries had submitted their artwork based on the theme "Let's Celebrate" of the event. Michelle has chosen the winner and will hand over the posters to the winners of Easter Egg Roll and Egg hunt as a prize.
White House Easter Egg Roll is the largest annual public event at the white house and this year it is the 138th year of the tradition.
More Searching Terms:
Easter Egg Celebration 2016 Yoga Session Video