Watch WWE Wrestlemania 32: When The Rock and John Cena Returned
Wrestlemania 32 gave many surprises to the crowd in the stadium in Dallas. One of the most surprising moment was returning of The Rock and John Cena for the same match.
Rock announced the attendance record of 101,763 at AT & T stadium. Soon after, Rock was challenged for a fight by Wyatt family. He accepted the challenge. Rowan came first but was easily knock down by Rock. Wyatt family then gang up to face The Rock. With this, entered another crowd pleaser, John Cena. Yes, John came to team up with Rock.
WWE WrestleMania 32 Highlights 2016 Video: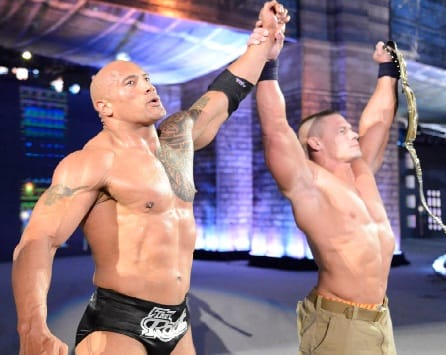 John Cena was out due to surgery from January and was expected to be out at least till June. But still he came down to help Rock. John delivered his signature moves. He and Rock were easily able to defeat the Wyatts.
However, the stage was electrified by the presence of The Rock and John Cena. Both were considered as rivals but their teaming up for a match made an amazing moment worth watching.
Most Searching Terms:
Rowan Knock down by Rock
The Rock vs. Erick Rowan Video