Twelve Year Beau Dermott Stunned Judges of Britain's Got Talent and Became Favorite of Bookies Too
Beau Dermott, a twelve-year contestant of Britain's Got Talent (BGT), stunned judges with her performance of `Defying Gravity.' Beau Dermott is a music student at Hammond. After his last performance, she has become bookies favorite to win Britain's Got Talent. You can watch here Britain's Got Talent 2016 Saturday night's episode video.
The young girl looked shy at first but as soon as she started singing she nailed each note with perfection. She received a standing ovation from wicked. She not only managed to win the audience but also won the golden buzzer from judge Amanda Holdon. This means she has got direct entry to live semi-finals of the show.
Beau Dermott golden girl Auditions Video from Britain's Got Talent 2016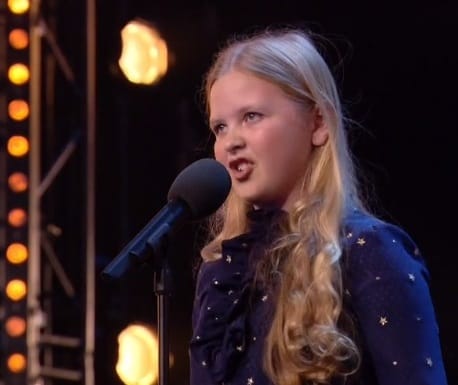 Simon Cowel, the other judge remarked that we were not expecting this. Aoife Heffron said that Beau Dermott blew everyone with her performance and deserved the golden buzzer. He added that she is holding on to favoritism at 3/1.
Many people took to twitter to praise the young girl. Emma Hatton tweeted : "Just caught up and watched the video of Beau singing Defying Gravity on @BGT. She's awesome. Many tweeted her as very inspirational.
Jaci Stephen believes that audience witnessed the start of a long international career for the youngster.
Most Searching Terms:
Britain's Got Talent 2016 Saturday Night's Episode
Beau Dermott Performance of Defying Gravity