Kid reporter, Hilde Lysiak Beats Local Newspaper at Scooping News
Hilde Lysiak, 9, is the publisher and the reporter for The Orange Street News from Selinsgrove in Pennsylvania, USA. She has become a media sensation this week, with articles about her in 'The Washington Post' and 'The Guardian'. She has also sought an appearance on "Good Morning America". Now read the full biography of Hilde Lysiak at here.
This all began when she broke the news and beat her competition on coverage of a killing in her neighbourhood on Saturday.
Hilde Kate Lysiak covers street-level community news related to her town Selinsgrove. She attends town meetings. She covers scenes of breaking news event and crime scenes too without any cooperation from the police department. She writes articles and shoots videos and publishes them on her websites. She also publishes the print edition of her newspaper 'The Orange Street News' once a month. She runs it herself only.
Last Saturday she came to the spotlight with her OSN news about a murder in the neighbourhood. Lysiak followed up on a tip-off she had got at the police station. On the day of the killing, she went to the crime scene, collected photos, interviewed neighbours and posted an article publishing all the details of homicide. She mentioned in the article, "A man is suspected of murdering his wife with a hammer," and also added, "Residents reported seeing a person taken out on a stretcher but were told by police not to talk to media."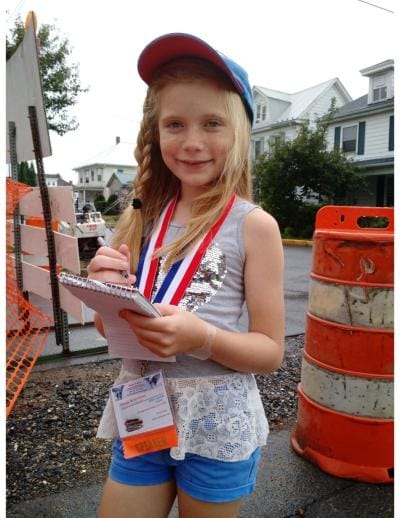 This was done before popular media in the area could reach the scene of the crime. When her article went live, comments and criticism flowed on the social media. Some are questioning whether she should cover homicide at the age of playing with dolls and if she should be exposed to the crime scene at a tender age.
Lysiak had started covering local news since she was seven. Lysiak's father, Matthew, is an author and journalist himself He helps edit her stories and print them out. Mr. Lysiak has said that his daughter was exposed to journalism through his work. He and his wife feel proud for their daughter for the criticism she is facing. Residents of the area where they live have been overwhelmingly supportive of Hilde.
Hilde has responded to this stardom attention coolly. She says that she is getting attention not for her work, but her age. She has recorded a video about herself wearing 'I love free speech' button and posted it. It has become a sensation.
Most Searching Terms:
Nine-year-old US reporter answers her critics
Hilde Lysiak biography
Kid reporter Orange Street News