New HP Spectre 13 Launches As World's Thinnest Laptop, Poised To Out-Innovate Apple and the MacBook
HP has launched world's thinnest and lightest Premium laptop Spectre 13. Here we discuss on this ultrabook's specifications and reviews. It is just 10.4 mm thick, which is as thick as your smartphone. Spectre is a 13.3-inch laptop, its display protected with monkey glass. It just weighs 2.45 pound.
New HP Spectre 13 is not only sleek but very innovative. It will compete with Apple MacBook Air. It comes with a choice of Intel core i5 or i7 processor, full HD resolution and Bang & Olufsen speakers. The base model includes a 1080p display, 8GB of RAM, and up to 512GB of SDD storage. It has 9.5 hours of battery life.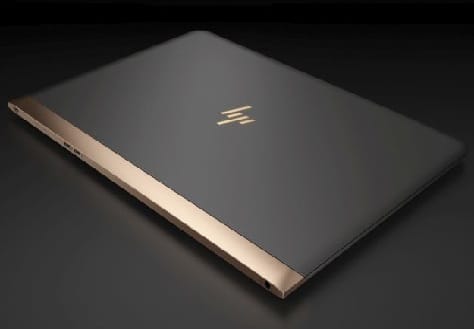 Spectre 13 has been crafted to make it look stunning and you will feel as if you are carrying jewellery piece with you. Most of its body are made from dark grey aluminium with a large bronze piece along the edge for contrast.
Its bottom is made of carbon fibre to make it light. It has a new angular logo on the back of it. Speaker grating on either side of the keyboard looks like stylish repeating triangles. Inside hinge of the laptop is open arc curve.
Spectre 13 features three USB-C ports, two of which support Thunderbolt and a headphone jack. It has a deep keyboard that makes it natural to type on it. The trackpad is a bit smaller than those on other HP laptops.
Laptops with 13.3-inch size and having Core i series processor needs to deal with issues related to heat and battery. HP has handled heat problem using a heat pipe that distributes heat away from the processor and two fans to push heat out the back. The battery is made a thin unit that takes up most of the inside of the PC.
HP will start taking pre-orders for the Spectre 13 from 25th April and customers can book it at HP's website and BBY.com . It will be available in the store from May 22 at the starting price of $1,699.99 .
Most Searching Terms: