LinkedIn Has A New Mobile App for Job-Hunting College Students
In an attempt to help college students to hunt for a job when they graduate out, LinkedIn has launched a new mobile app on Monday.
The app is made available nation-wide for Android and iOS users. According to LinkedIn, the new app is aimed at college students who are about to complete their graduation and will help them get their first job graduation.
With this app, students can explore various career options, surf through job listings and expand their professional network.
The app uses the student's college and major as its main data point for suggesting potential jobs and as such it emphasises heavily on college major. For overachievers, there is an option of 'Extra Credit' through which you can mention your achievements, interest, and goal.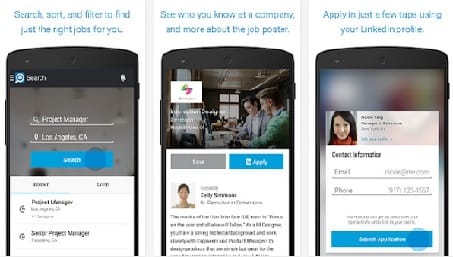 To join app, students need to enter college, major and graduation date. You are required to have a LinkedIn profile. The app's design follows a popular app Tinder and resembles swiping through a deck of cards. It covers five major aspects. The first card provides a career guideline to students based on their education and major subject.
Then there is a recommended article containing career related information. It is followed by a company name that often makes recruitments from your college. You will also be offered few suggestions for jobs will be made going by career options pursued by alumni of the college with the same major. Finally, you get a job listing is suggested that you might find interesting.
LinkedIn had already made the app available few months ago that covered 1500 students across 300 colleges. It also ran pilot programs with San Jose State University and the University of Central Florida and has considered their feedback.
LinkedIn has also planned to partner with schools and their own job boards so it provides job listings to students on the app.
Most Searching Terms:
Linkedin Job Search App Android
Linkedin Android App Not Working
LinkedIn Career App