Venezuela News: Electricity Outages to Save Energy
Venezuela will introduce electric power cut amid a severe drought that has limited power generation from its hydroelectric plants. The power cut will be nationwide and rotate among different hour's periods for 40 days starting next week. The energy minister said yesterday that the government had to take an unpopular measure for a population which is already struggling to get food and medicine.
Energy Minister Luis Motta Dominguez, while announcing the restrictions on Thursday said that the hours of power cut would be published on a daily basis in newspapers and on government websites. He also mentioned that there would be no cuts between 20:00 and midday. While addressing on television, he appealed the home consumers to use of electric power efficiently and observe some self-restraints. He also said, "It's necessary, it's a sacrifice."
It is expected that the oil sector will be exempted from the cuts as an economy of Venezuela is mainly dependant on it.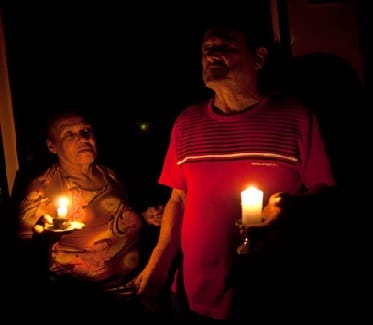 Most of the electricity supply comes from Venezuela's massive Guri hydroelectric dam, whose reservoir has reached the lowest as the rainy season is delayed due to the El Nino weather phenomenon. The power cut measure would help raise the level of the reservoir.
There has been the change in working hours for the government employees to cope up with the power cut. The state employees would now work from 07:30-13:00 and it will save considerably on air conditioning. Private companies would be asked to use their own generators to reduce the need for power supply.
It is going to affect Venezuela's economy which has already been hit hard by a sharp fall in the price of its main export, oil. Venezuela is going through energy crisis since February this year. Shopping malls were asked to reduce their opening hours and fulfil their own energy needs. Venezuela's economy is in setback direly affected by high inflation, scarcity of some basic goods and dwindling revenue from oil due to sharp fall in its price.
Many critics and opposition politicians blame the energy crisis and shortages of basic goods as the mismanagement and failure of the administration to handle the situation.
Most Searching Terms:
Venezuela Officially Hours of Power Cut
Electricity Blackouts Timing
Change in Working Hours for the Government Employees
Venezuela Cuts Working Hours to Tackle Energy Crisis