Massive Fire Destroys Delhi's National Museum of Natural History
A massive blaze completely destroyed iconic National Museum of Natural History at Delhi Tuesday morning. The museum is located in FICCI building near Mandi House in central Delhi. The cause of the fire is not identified; it is being probed by the police.
The fire broke out around 1.45 am on the sixth floor of the museum located in the FICCI building. It spread to all seven floors soon. There were not many people inside the building; it was evacuated by the time firefighters reached there. The fire was also spread to the FICCI Auditorium located in the same complex which has not been damaged much.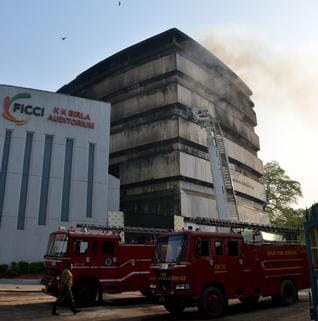 Firemen with 35 fire engines were at work through the night to put out the blaze, it took more than four hours and the fire was brought under control around 5 am. Only ground and first floors of the building have been survived. Safety mechanism in the building was not working which made the task to control the fire difficult.
Six fire officials who were at work to douse the blaze were injured by inhaled smoke for more than four hours and were rushed to Ram Manohar Lohia hospital. Their health condition is stable now.
The National Museum of Natural History was one of the top museums in India that included a 160 million-yr-old fossil bone of a lizard-footed dinosaur that's called a sauropod, herpetological specimens and stuffed animals made by renowned Mysore-based taxidermists Van Ingen & Van Ingen.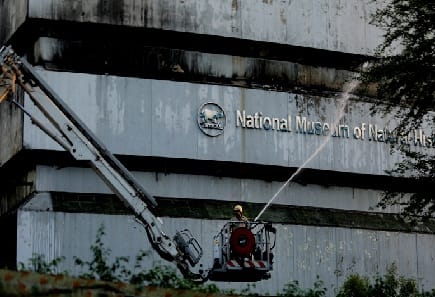 It set up in 1978 to promote environmental awareness and was a very interesting venue and for visitors especially interested in history. The museum had three exhibit galleries – "Introduction of Natural History", "Nature's Network: Ecology" and "Conservation". The tragic fire has caused a great loss to the national treasure.
Most Searching Terms: