SanDisk's iXpand Flash Drive Provides Extra Storage for iOS Devices
SanDisk has launched a new generation iXpand Flash Drive that helps provide extra storage for iOS devices. The iXpand drive sports a lightning connector that connects to most iPhone and iPad cases as well as USB 3.0 connector to provide faster speed to Mac/laptop/PC.
iOS users often face storage problem as Apple devices do not support expandable storage. With the increased use of cameras for photos and videos, users can run out of space easily. The new iXpand flash drive solves this space crunch. Files can be accessed from iXpand through Sandisk's iXpand Sync app. The app can natively play audio and video files that support file formats such as wmv, avi, mkv, mp4, mov.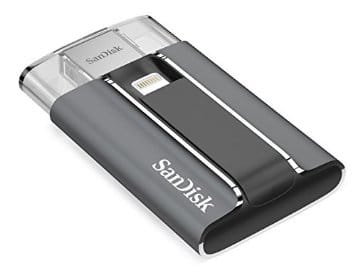 Moreover, files can transfer easily through iXpand Flash Drive in comparison to iTunes. The iXpand Flash Drive allows users to automatically back up their camera roll and contacts and watch video formats directly from the drive. iXpand also features encryption software that provides password protection to files.
The iXpand Flash Drive is available in four capacities 16GB, 32GB, 64GB and 128GB at retail prices for 4,490, Rs 5,990, Rs 7,990 and Rs 11,490 respectively. It comes with one year warranty period. The flash drive measures 64.17mm x 36.78mm x 11.80mm in dimension. It can connect to any iOS model that uses the thunderbolt port and is compatible with iPhone 5s, iPhone 5c, iPhone 5, iPhone, iPad Pro, iPad Air 2, iPad Air, iPad mini 4, iPad mini 3, iPad mini 2, iPad mini and iPod touch running iOS 8.2 or later.
The new iXpand has a metal body and has a flexible arm for the lightning connector so that it is easy to use with devices in protective cases. It is compatible with most cases.
Considering the amount of data created by mobile devices and user needs; Sandisk on Thursday introduced a host of mobile memory solutions. The new product launch includes 200GB micro-SD cards for Android devices, iXpand Flash drives for iOS devices and Dual flash drive USB C-type connectors.
Most Searching Terms:
Price of Sandisk iXpand Flash Drive for iPhone and iPad
Transfers and Backups in a Slim Package
SanDisk's New Lightning/USB 3.0 iXpand Flash Drive Review