Google Fiber Phone Service Launched With Unlimited Domestic Calling
Google Fiber Phone has launched landline telephone services in some cities of US. This service features unlimited local and nationwide call, caller identification, call waiting and 911 services. Know for monthly cost, Plans and Pricing.
The service is known as a Fiber service and priced at $10 a month. Fiber Phone is not simply a phone service but houses hi-tech features that transcribe voice mails and can deliver them as text messages or email. It offers unlimited domestic calling and international call at the rate of Google Voice.
Fiber Phone offers cloud-based functionality to their phone. It requires at-home installation and comes with a black box that is to be kept near your phone. It is compatible with almost all the handsets, except old style rotary phones.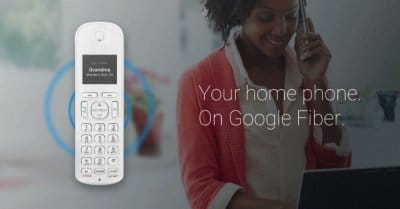 Customers who already have internet and television services from Google Fiber, this Fiber phone services can be purchased as an add-on as they can have consolidated services from Google Fiber as a double- or triple-play deal. This Phone can provide you with a new number or you could use an existing landline or mobile number.
Google Fiber Phone is available in three US cities Austin, Kansas City and Provo and the company has the plan to expand it soon to Salt Lake City, Nashville, Atlanta, Charlotte and Raleigh-Durham.
According to the Google Fiber product manager, with this cloud-based services, it can ring your landline provided you are home and connect with a mobile phone if you are away.
Most Searching Terms:
How Much does Google Fiber Landline Telephone Cost per Month