Premiere Episode Video of Real Housewives of New York City Season 8
The Real Housewives of New York City season 8 premiered on April 6, 2016. In the premiere episode, viewers catch up with everybody. Julianne Wainstein joins the new season but Kristen Taekaman and heather Thomson is out of the season.
Here is the overview of what happened in the premier episode:
Bethenny Frankel's apartment is ready to live in. She has a new office which has skinny girls products along red office supplies.
Dorinda and Bethenny are planning for lunch with some friend. Dorinda wants to invite Jules and her husband Michael. She even warns Bethenny not to comment on Michaels height but she promises nothing. They will also invite Carole, who has been in a relationship with Adams for a year. Carole and Adam are shown entering the camera shop. Adam is going to Ethiopia and Carole says she is going to miss him. Carole gives entire credit to Luann de Lesseps for bringing her and Adam close to each other. She also confesses that she has become very protective for Adam.
The Real Housewives of New York City Season 8 Intro Video
Ramona is single and waiting for her divorce to be final. Avery has turned 21 and feels embarrassed seeing her mother flirt in the bars.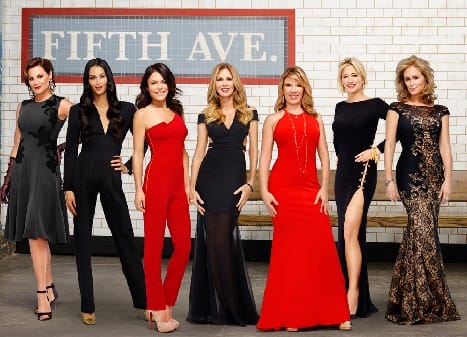 Luann has sold her place in the city as both of her kids are in college now. She sometimes lives with Sonja as she offered her a room in her house. Sonja is sad about her daughter who is away in boarding but also feels happy as she attends such a prestigious school. She also warns Luann not to bring any men in her daughter's bed.
Bethenny and Ramona meet for lunch and indulge into gossips. Bethenny is impressed by Ramona's clothes and the new attitude. They also talk about Dorinda's BF John. Ramona says she is not comfortable with John and even Bethenny doesn't like him that much. From the promos, one can make out that John will be the center of many dramas in the present season. They also gossip about Sonja and Luann that their partying is becoming embarrassing day by day.
Then Jules is introduced to viewers. Before having kids, she and her husband Michael use to have a fashion and travel rich lifestyle. Now Jules have to take care of their kids. She has a housekeeper and a live-in nanny.
Dorinda goes for dinner to celebrate her monthly anniversary with BF John. She still is not that serious about him. Ramona and Carole meet for lunch.
Jules and Michael along with Dorinda and John and Bethenny and her date, John meet up for brunch. Bethenny thinks Jules spends a lot of her husband's money without knowing even where does it come from. Jules seems to be defensive about her being mom. She is part Jewish and part Japanese. Bethenny feels Jules resembles her mother a lot. John pitches Bethenny on her dry clean business. Dorinda accepts she becomes very sensitive after drinking. The dramatic launch does not go well.
The present season is going to bring more drama in coming episodes for sure. Bethenny Frankel has already declared that season 8 of The Real Housewives of New York City is more raw and real than ever and compares it to the natural disaster.
Most Searching Terms:
Rhony Season 8 Premiere Video