Justin Bieber Biography
Young, dynamic and talented Justin Drew Bieber needs no introduction. Here we will discuss the story of Justin Bieber's life, his first song, childhood, and biography. He is a known Canadian singer and songwriter. He was discovered through his youtube video by a talent manager, Scooter Braun. He was then signed to RBMG. Justin was able to release his debut EP named My World in late 2009. The album was certified platinum in the US.
After the release, he became the first artist whose debut album had seven songs on Billboard Hot 100.
Justin then released his full-length album named My World 2.0 in 2010. It became number one album in many countries and was certified triple platinum in the US. Till now Bieber has given many hits but his most successful single till now is `Baby'. He has been listed by Forbes magazine as one of the ten most powerful celebrities in the world thrice. He has won many awards too.
Bieber's Childhood and Education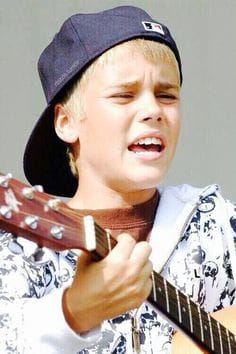 Justin was born in London, Ontario on March 1, 1994, in St. Josephs hospital. He is the son of Jeremy Jack Bieber and Patricia Mallate. Justin's parents never married. She has been raised by her mother Patricia with the help of her mother and stepfather. Being a single mother Patrice worked really hard to raise Justin. However Justin has been in contact with his father and through him has two siblings named Jazmyn and Jaxon.
Bieber went to Jeanne Sauve Catholic school in Stratford. Along with studies, he also learned guitar, trumpet, piano, and drums. He graduated from Michael catholic secondary School in 2012 with 4.0 GPA. When Justin was 12-year-old, in 2012 he took part in singing competition in Stratford and stood second. His mother posted the video of the competition on YouTube so that her relatives could see it. She continued to upload various videos of Justin and his popularity grew on the site.
Career: Beginner to Achiever
A marketing executive of So So def Recordings, Scooter Braun, is a person behind Justin's career beginning . He was looking up for talent and hence was searching different videos. He clicked on Justin's video of 2007. He found the theater he was performing, track his school and then contacted her mother. Bieber went to Atlanta, Georgia with Braun when he was 13. He went there to record demo tapes. Only after a week Justin started singing for Usher.
Bieber was then signed to RBMG. Reid signed Bieber to Islands records in October 2008. In the same year, Braun became Justin's manager. Justin moved to Atlanta with her mother.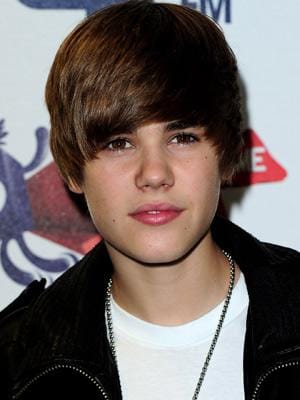 Bieber's first single was "One Time". This was released on radio. The song reached number 12 on the Canadian Hot 100 and peaked at number 17 on Billboard Hot 100. The song was certified gold in Australia and New Zealand and platinum in Canada and the US. His first album My World released on November 17, 2009. The album was certified platinum in the US and double platinum in Canada and the UK.
Bieber performed `Someday at Christmas' for President Barack Obama and Michelle Obama at White House in Washington. Bieber was one of the presenters at 52nd Grammy Awards on January 31, 2010. Bieber sang the opening line in the remake of `We are the World'.
"Baby" was released in January 2010 from My World 2.0. This became hit internationally. It peaked at number three in Canadian Top 100 and at number five US Billboard Hot 100. My World 2.0 debuted at number one in many countries and part of top ten in around 15 countries.
Bieber guest-starred in the season premiere of the CBS crime drama CSI: Crime Scene Investigation. Bieber was also in a subsequent episode. Bieber performed a medley of "U Smile", "Baby", and "Somebody to Love" and briefly played the drums at the MTV Video Music Awards 2010 on September 12, 2010.[61] Bieber announced in that he would be releasing an acoustic album, called My Worlds Acoustic.] It was released on November 26, 2010, in the United States and included acoustic versions of songs from his previous albums.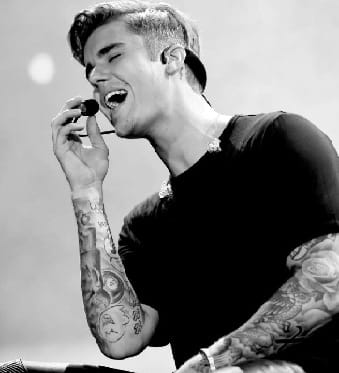 Bieber starred in "Never say Never", A 3D part biopic and part concert film. It was released on February 11, 2011. The movie was hit and topped the box office. It grossed $30.3 million in the weekend. In Forbes list of Best paid celebrities under 30, Bieber was ranked on number 2. Bieber released the Christmas-themed Under the Mistletoe, on November 1, 2011, his second studio album. It debuted at #1 on the Billboard 200 and 210,000 copies were sold in its first week of release.
Justin's third studio album was `Believe.' The first single from the album was "Boyfriend". It became Bieber's first single to reach the top position on the Canadian Hot 100 after debuting at number one. It debuted at #2 on US Billboard Hot 100 chart. Bieber announced that for movie Justin Bieber Believe, he would release a new song on every Monday for ten weeks. The movie was released on 25th December 2013. Bieber also filmed an episode of the Fox TV reality series Knock Knock Live.
Justin released a new single "What do you mean?" on August 28, 2015, from his fourth studio album "Purpose". This became Justin's first single to be at #1 on Billboard Hot 100. His name was entered in Guinness World Record as he became the youngest male to debut at the top of that chart.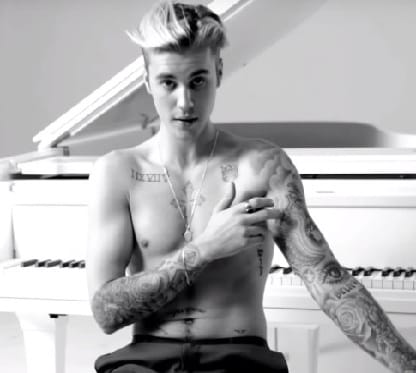 Along with music, Justin has also indulged himself in philanthropy and business. He has invested millions in small technology start-ups. He also endorsed Adidas in 2012. He became new face and body of Calvin Klein in 2015. Justin has launched four fragrances namely Someday, Girlfriend, The Key and the Justin Bieber Collector's Edition by 2014.
Justin appeared in many films and television series. Justin Bieber : Never say Never is the most loved one. He also did a cameo in Behaving Badly, Katy Perry : Part of Me, Zoolander No. 2 and more. He did guest appearances in Silent Library, Saturday Night Live, The Simpsons, Comedy Central Roast and more.
Personal Life of Justin Bieber
Justin believes in Christianity. He says prayers are his means to communicate with God.He further reflected his faith in Christianity through his video "#iPledge". Justin lives in the US and possesses O-1 visa for temporary residence. He has already made it clear that he is not interested in getting US citizenship and believes that Canada is the best country in the world. Justin also says Jewish prayer Shema Yisrael before starting his live concert.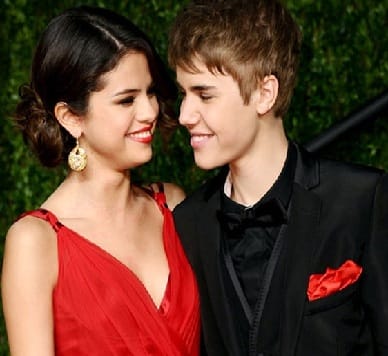 Justin was in a relationship with Selena Gomez Since December 2010 but it was declared that he was single by January 2013.
He supports PETA. He also supports charity Pencils of Promise founded by Adam Braun. The organization builds schools in various countries.
Justin Bieber's Controversies
Justin was arrested in Miami Beach, Florida on suspicion of DUI (Driving Under Influence) and driving with a license that expired before six months on January 23, 2014. This was his first arrest but he was accused several times before this too. Bieber was arrested and charged with assault and dangerous driving near his hometown of Stratford, Ontario on September 1, 2014.
In June 2014, a video was released in which 15-year-old Justin was making fun of black people by using word `nigger' several times. In the same month, another video was released in which 1 year Justin was singing the song `One Less Lonely Girl' but by changing the lyric as `One Less Lonely Nigger'. Justin apologizes for this the next day and said: "Facing my mistakes from years ago has been one of the hardest things I've ever dealt with."
Most Searching Terms:
How old is Justin Bieber/ Age/ Story of Life
When did Justin Bieber Become Famous/ Controversies